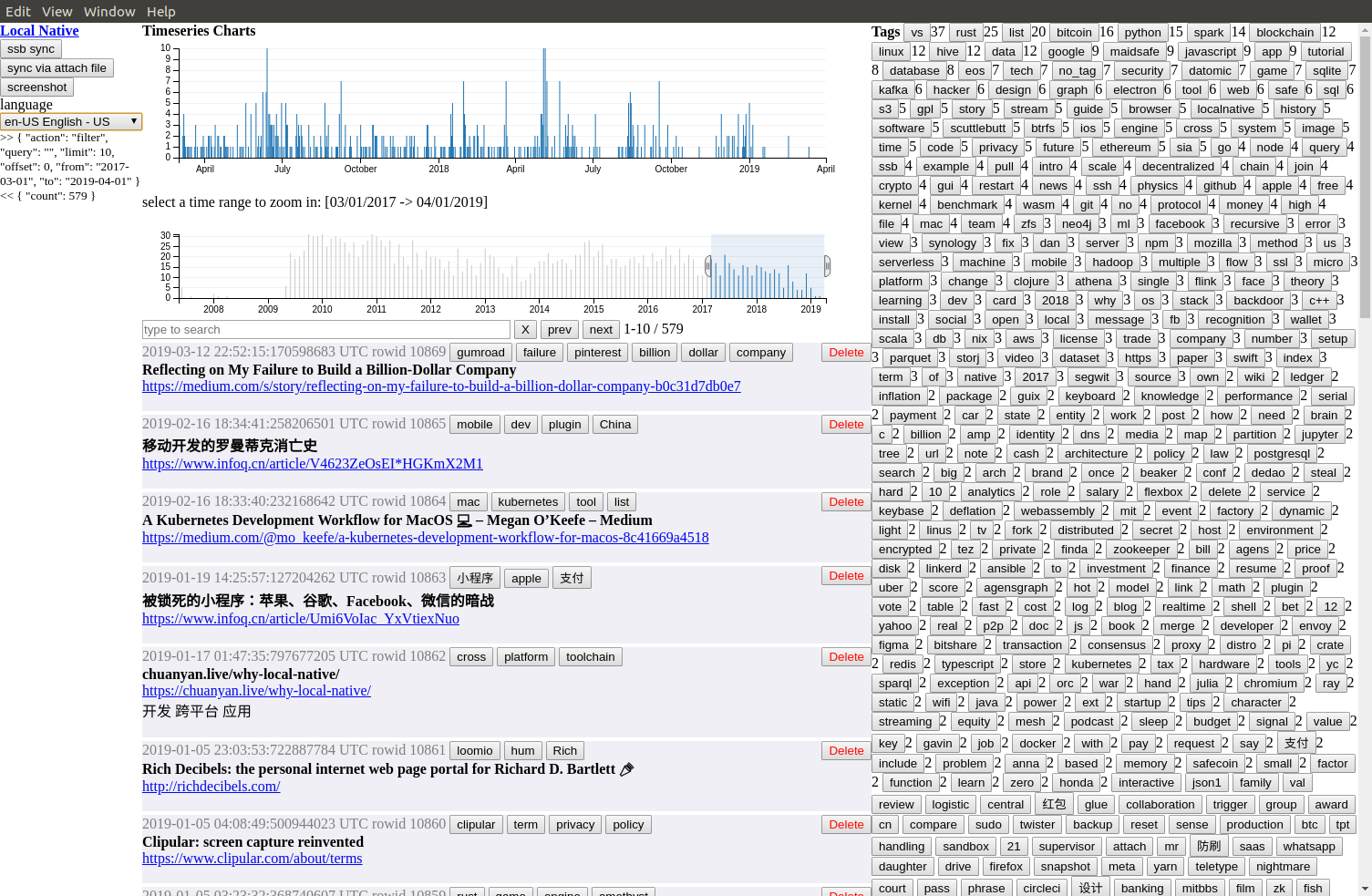 What is new?​
This Local Native release marks as a personal milestone to satisfy my day-to-day use case for web bookmarking and note-taking with title, URL, tags, and description.
Search, create, read, delete and pagination are implemented for desktop (gnu/linux, mac), browser extension (firefox, chrome/brave) and mobile (ios, android).
On desktop, time-series charts are shown to allow filtering on time range, and tag cloud is visualized.
About sync with other devices​
Maybe the biggest drawback of not using a centralized service is losing the "convenience" of everything synced on every device.
Currently, the Local Native desktop implemented wired sync based on files via exchange and appending items from one to another and vice versa.
Also, the Local Native desktop implemented ssb sync by setting up target keys.
Wireless via bluetooth seems achievable (on android).
Known quirks could be improved​
There is definitely plenty of room for improvements, some known ones among many others:
No windows desktop build because of an upstream issue.
On iOS, the layout of the tags is not optimal as it does not scroll, and each tag is the same width regardless of character length.
Crash when adding note on Nexus 5X. (on Pixel 2 and Nexus 6 is fine)
Mac app store build has a sandbox issue, so it is not quite usable. (DMG works)
...
However, given this release now satisfied my day-to-day bookmarking needs, my limited spear time will be mostly on trying more aspirational things.
Conclusion​
This serves as proof that one has a choice to not use a centralized service to manage web bookmarking and note-taking.